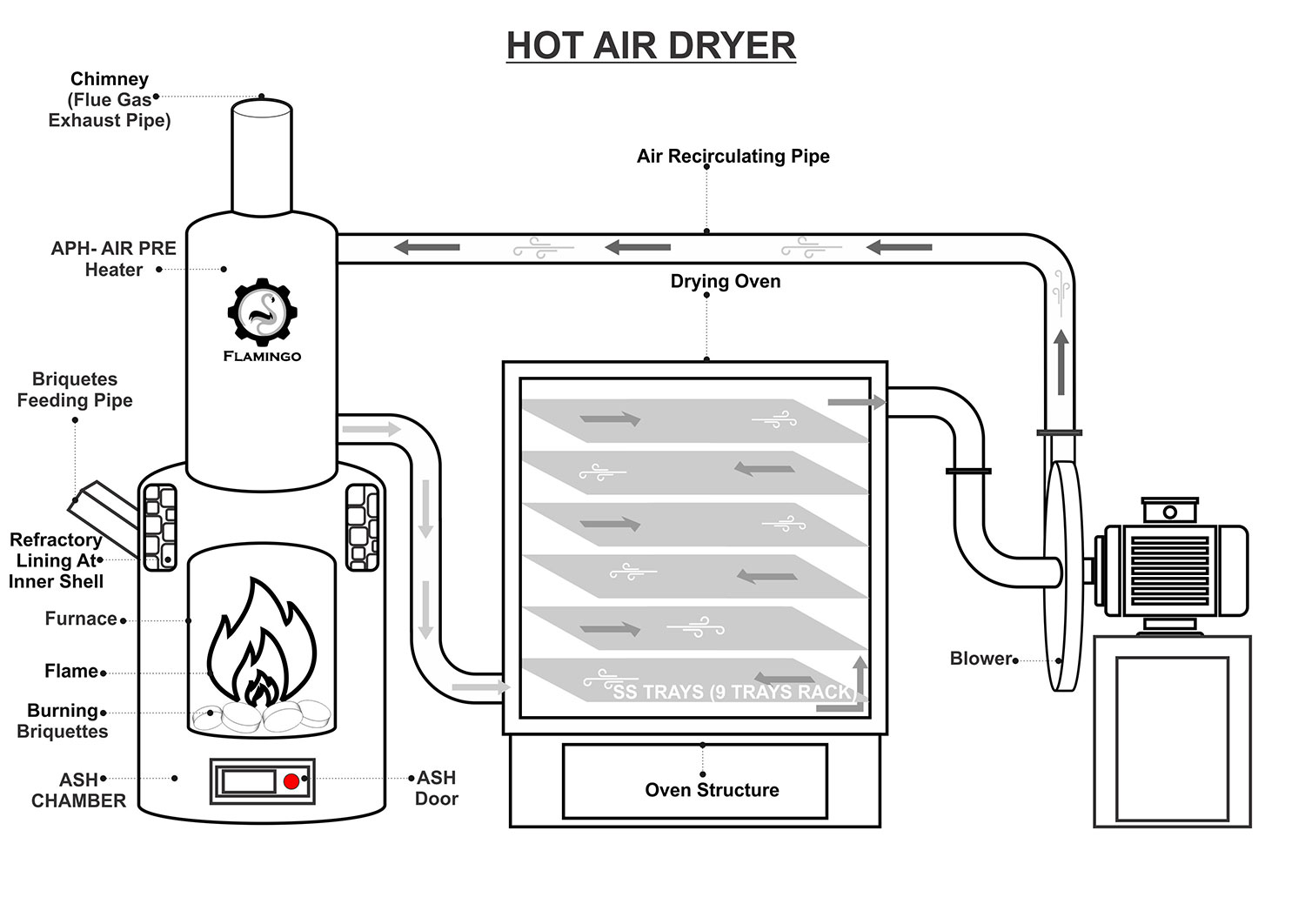 Air Dryer
Currently, drying is done with Electric ovens which is expensive For naturally drying, rate of drying is very slow which leads to low production or yield.
Hot air is generated by heating fuelThis furnace runs on our patented combustion technology.
Operating temperatures of Oven: 50°C to 350°C
Fuels: Dry biomass, Briquettes, LPG/Diesel.
Applications
Drying of vegetables, onion, lady finger, mango drying, cashew nut drying , powder making of various vegetables. For agricultural based applications like drying - Fuel can be utilised from the fields itself-twigs, bagasse, cotton stalk, groundnut shells, etc.
Oven for core drying in foundries, Preheating metal , Painting industry. Fuel for inudstries - Any fuel which they are already using.
Features:
High efficiency system 73%
Moisture removal available
Temperature control within +-3 °C
Easy Ash removal System.
Range 50°C - 400°C
Benefits:
Faster drying - 10 times faster than natural drying.
Min 40 % electricity bills will be reduced in drying.
Carbon emissions reduction
10 times more Compact as compared to solar drying. 90 % floor space is saved.
Useful for multiple applications.
Heat losses reduced by 5%
Food value is retained due to proper temperature control
Who can use ?
Agrobased : Mango drying, spices making, Papad drying , Onion, Garlic, Ginger Drying
Industrial : Heat treatment plant, Auto Components Normalizing, Core drying in Casting Companies etc.
Products Available
Capacity ranging from smaller capacity of Oven D-10 to D-50 (10kg / hr to 50kg / hr)